RABBI ANNETTE KOCH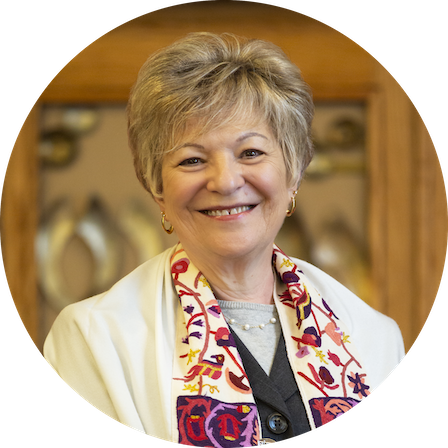 Update this content.
Long before I was known as Rabbi Annette Koch, I was known as a mother, a friend, an attorney, a volunteer. Though I have grown over the years and my understanding of myself has deepened, my commitment to Jewish life has never changed. As a parent, the values of our tradition were part of my family's foundation. In my practice as an attorney, I knew that the Jewish values of honesty and integrity applied to the workplace as well as in the home. My Jewish identity found expression at my Temple, as a volunteer and lay leader, as a worshipper and as an adult learner. I came to realize that Jewish values formed the core of my identity, and I yearned to share with others my passion for Judaism, and for the Jewish people. I finally took seriously the suggestion of one of my rabbinic mentors to consider becoming a rabbi. I have never looked back.
Update this content.
From my years at Hebrew Union College and my experience leading congregations, I have learned how to speak and teach about God, how to enhance our awareness of God's presence in our lives, how to help us connect with that spark of the divine in every human heart. Those years also fanned the sparks of my passion for Israel into a steadily burning flame of lifelong commitment.
These core lessons have become the focus of my rabbinate. Our tradition teaches that the world rests on three things: on Torah – the renewal and meaning we derive from a life of ongoing study and discovery; Avodah – the enhancement of our lives through engaging communal worship and meaningful lifecycle rituals, and Gimilut Chasadim – the acts of kindness and love that bind us to one another as individuals, as community, and as the people Israel.
EDUCATION DIRECTOR BRIAN REICH
Cantor Brian Reich is a 5th Generation Cantor, (straight down the line) and is our Director of Education for our religious school, Beit Bina. Brian has been very much involved in the development of curriculum for all Hebrew School grades at Temple Israel, with a particular emphasis on Bar/Bat Mitzvah age children using his own curriculum, Trope for Teens. Beit Bina parents share that their children can't wait to go to religious school as Cantor Brian's curriculum is stimulating, supportive and creative and he is serious when it comes to his great nutritious snacks for the students.
Previously, Cantor Reich served as Cantor and Program Director at Congregation Beth El in Berkeley and very much involved with the curriculum for all grades and responsible for the 6/7 grade B'nai Mitzvah program as he brought as many as 65 students to the Torah per year for Bar/Bat Mitzvah
Update this content.
Update this content.
Cantor Brian served as Spiritual Leader at Beit Warsawa in Warsaw Poland before coming to Temple Israel of Alameda in 2012.
In November of 2011, Cantor Reich completed his CD, "Yismechu- Rejoice," a work of his own contemporary/Chassidic compositions of prayers from the Shabbat service.
Cantor Reich resides on the Richmond Marina in the East Bay with his wife, Orly. Together they enjoy sailing, (he is a certified Skipper) and traveling around the world for their passion of Israeli folk dancing. Brian and Orly have five children, as well as one grandson, Jameson, and a granddaughter, Amelia Rose.
Wed, September 18 2019
18 Elul 5779
Today's Calendar
Midway Shelter Cooking Project

: 10:00a
HHD Choir Rehearsal

: 7:00p
---
Friday Night
Candle Lighting

: 6:51p
Shabbat Service w/Oneg to Follow

: 7:30p
Shabbat Day
Upcoming Programs & Events
---
This week's Torah portion is

Parashat Ki Tavo
Candle Lighting
Havdalah
Motzei Shabbat, Sep 21, 7:58p
Erev Rosh HaShanah
View Calendar
Zmanim
Alot Hashachar
5:35a
Earliest Tallit
6:05a
Netz (Sunrise)
6:53a
Latest Shema
9:57a
Zman Tefillah
11:00a
Chatzot (Midday)
1:03p
Mincha Gedola
1:34p
Mincha Ketana
4:38p
Plag HaMincha
5:55p
Shkiah (Sunset)
7:12p
Tzeit Hakochavim
7:51p
More >>
Wed, September 18 2019 18 Elul 5779